Affiliate marketing is the practice of promoting another business' products and earning income based on the traffic and sales your website is driving (ClixGalore).
Affiliate marketing is a true business process. Initially, choosing to become an affiliate means you're agreeing to the terms and conditions of your selected merchant's affiliate program. As an affiliate, you will then begin using a specified link to mention the merchant on your site. When a user clicks on the link mentioned on your site, a cookie gets place on that user's computer. After said user makes a purchase, your merchant will check for that cookie and credit you for the sale according to your contract.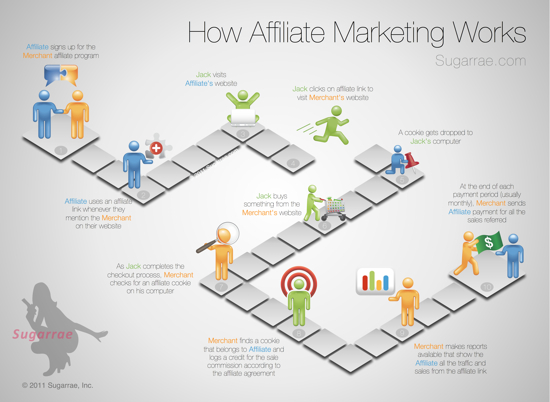 [Image provided courtesy of the Sugarrae affiliate marketing blog.]
Affiliate marketing tends to be most successful when applied to a site you are already running. Best practices recommend promoting products you are familiar with, that fit into the context of your current and/or previous experience. This strategy tends to fall into the realm of related marketing, where you take advantage of your already strong online presence. Other forms of affiliate marketing include unattached marketing, when you have no presence and no authority in your chosen product niche; and involved marketing, when you promote a product or service you use, believe in, and personally recommend (Smart Passive Income).
Last, affiliate marketing contributes to the core relationship between advertisers, publishers and consumers (Conservant). As an affiliate, you are essentially a publisher. The merchant – or advertiser – contractually agrees to provide you with the necessary creatives to incorporate on your site, directing your followers – or consumers – to the parent website. Understanding the affiliate relationship can advance your eCommerce strategy to facilitate new opportunities for business development and growth.